Helios $40/night
4 sets of LED lenses combine to produce amazing results.The picture on the right shows 2 Helios units in action (2 on the top with 2 green lasers pointing down. $180 for the set. A great effect that draws very little power and produces very little heat.This unit requires smoke for the best effect. You can get this Light cheaper as part of a lighting package!
---
Mirror Ball Set $40/night
Invented shortly after Edison released the light bulb – and still the most requested effect!You get a large 20 inch mirror ball (that's big), two spotlights and a mains powered motor. Nowhere to hang the thing? Don't worry, we have all the lighting stands and accessories so you can TGIF anywhere you want! You can get this light cheaper as part of a
lighting package!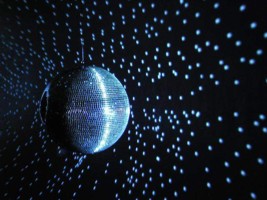 ---
The LED Derby $40/night
When it comes to bang for your buck in effects the Derby is King.
This unit produces a huge amount of effect for a single unit and the built in sound to light processor means you just turn it on and let it go!
– The derby produces multiple beams which can be easily seen in a dark room.
– As with most lights, this unit has a far better effect when used in conjunction with a smoke machine
---
Barrel Scanner $40/night
The moving spinning barrel head mirror on this effect light casts swirling colours that move all around the dance floor walls and ceiling. Built in Sound to light converter means it works in time with the music.
– As the scanner casts colours all around the room it can be used with or without smoke
---
LED PAR can $20/night
The modern version of a sound to light chaser. This clever unit works like a Sound to Light chaser changing colours in time with the music, but instead of just 4 colours it can do about 10.
These light are often pointed up walls to produce atmosphere without being "in your face"
Want more than one?
1x par56 = $20
2x par56 = $35
3x par56 = $50
4x par56 = $60
You can get this Light cheaper as part of a lighting package!
---
750W Strobe $35/night
Blink blink blink blink blink. At 750W this unit is much more powerful than many on the market, producing brilliant white flashes from very slow to around 30 per second. Hint – Use a strobe in conjunction with other lights as overuse can cause headaches and seizures in some people
---
1800W Strobe $45/night
The Mother of all Strobes. At 1800W this unit is one of the most powerful we have ever seen, producing unbelievably bright flashes from slow to umm, fast. Suitable for big parties or large halls.Hint – No. I've given you enough already today
---
4 foot UV tube $30/night
If you like your teeth to glow in the dark then this is the one for you! Plug it in and leave it going all night. A classic effect that really make everything seem, umm, weird.
Want more than one?
1x 4 foot UV tube = $30
2x 4 foot UV tube = $50
3x 4 foot UV tube = $75
4x 4 foot UV tube = $90You can get this Light cheaper as part of a lighting package!
---
400W UV Canon $60/night
Crickey. UV Canon. Sounds exciting. Produces about as much UV light as 4-5 UV tubes Careful! The canon needs to be hung where children cannot touch it as it gets hot enough to scald. The canon does not take kindly to being bumped or being turned on/off a lot. It needs a bit of care but produces heaps of UV!